James Electric Motor Services LTD. is a Sales and Service center for pumps, motors, fans and blowers
Based in Calgary, Alberta, Canada, the company was incorporated by Calgarian D.R. (Rick) James in 1974. We began as a small motor rewind shop with four employees and have since grown into a thriving business with 55 employees, a fleet of 10 service vehicles, and a 35,000 sq. ft. service center and warehouse.
We maintain an extensive inventory of replacement bearings, seals, shafts, impellers, gaskets, fans, controls, motors, and other replacement parts for immediate service.
Our motto "All the parts. All the time." means that regardless of whether you are repairing existing equipment, replacing old equipment with new, or adding new equipment, we can usually meet your requirements directly from stock.
With our huge inventory and expert staff we are able to offer the ability to redesign and rebuild motors, pumps, fans and blowers to your exact specifications. Our professional engineering abilities can modify a motor's horsepower, speed, voltage, frequency or phase to meet all of your requirements. We can also redesign and/or alter the flow and capacity of your pumps to meet changes in demand and pressure.
As a responsible member of the corporate community, James Electric puts safety first and has been a committed, active member of Alberta Partners in Accident Reduction (PIR) since 1999 and are C.O.R. accredited.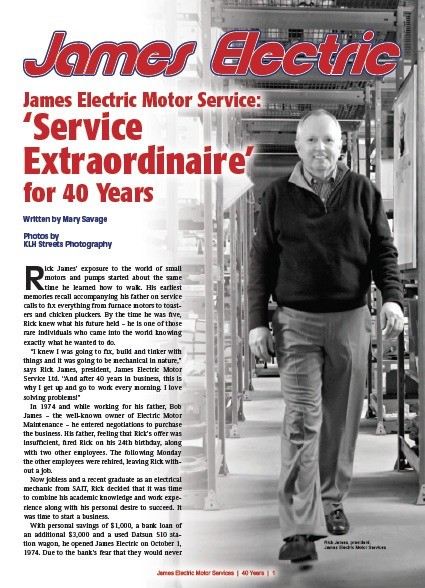 Related Information
---
We offer "On Call Emergency Service" 24 hours a day 7 days a week. Please feel free to call us at 1 (403) 252-5477.
Should you have any questions or concerns please contact one of our qualified sales and/or service personnel listed in the Contact Us section.